Import VAT from a file
Effortless import your VAT calculations from your own file
Our digital VAT bookkeeping software simplifies the process of handling VAT calculations by allowing you to import data directly from your existing spreadsheets or CSV files.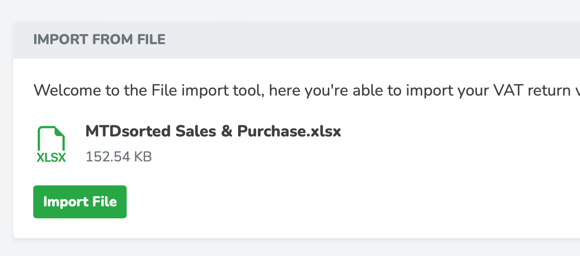 Time-Saving Convenience
Say goodbye to manual VAT reporting. MTDsorted enables you to save time and effort by importing VAT calculations directly from your spreadsheets or CSV files. This feature streamlines your workflow, allowing you to focus on other critical aspects of your business.
Error Reduction
Manual data entry is prone to errors, which can lead to discrepancies and compliance issues. With our import feature, you can significantly reduce the risk of errors, ensuring that your VAT calculations and submissions are accurate and in line with regulations.
Easy Submission
When you're ready to submit your VAT return, MTDsorted makes it a breeze. Your imported data is readily available for submission, simplifying the entire process and ensuring that you meet deadlines without stress.